Ranch Homes For Sale in Atlanta
Ranch Homes for Sale About Ranch Home Styles Sell Your Ranch Home Your Home's Value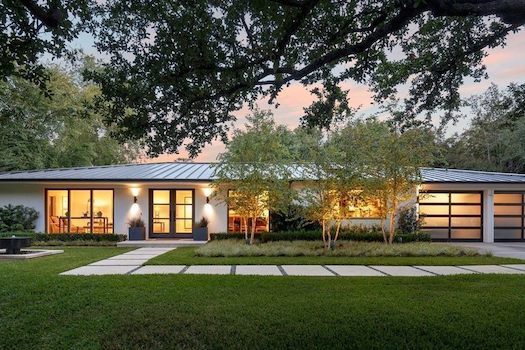 You can find all ranch homes for sale in Atlanta right here. To refine your search and find a ranch home in a particular area or price point, simply click the blue button below that says "Refine Results".
Interested in learning more about ranch homes, architecture, history, different types of ranch homes, and design elements? Below all of the listed ranch homes for sale on this page for an in-depth article about ranch homes.
Ranch Homes For Sale In Atlanta
Click the "Refine Results" button below to customize your ranch home search by city, price, and more.
Ranch Homes For Sale In Metro Atlanta
September 29, 2023
Ranch Homes For Sale In Metro Atlanta by Price

Listings identified with the FMLS IDX logo come from FMLS and are held by brokerage firms other than the owner of this website and the listing brokerage is identified in any listing details. Information is deemed reliable but is not guaranteed. If you believe any FMLS listing contains material that infringes your copyrighted work, please click here to review our DMCA policy and learn how to submit a takedown request. © 2023 First Multiple Listing Service, Inc.

Listing information last updated on September 29, 2023 at 10:15 AM EST.
What is a Ranch Home?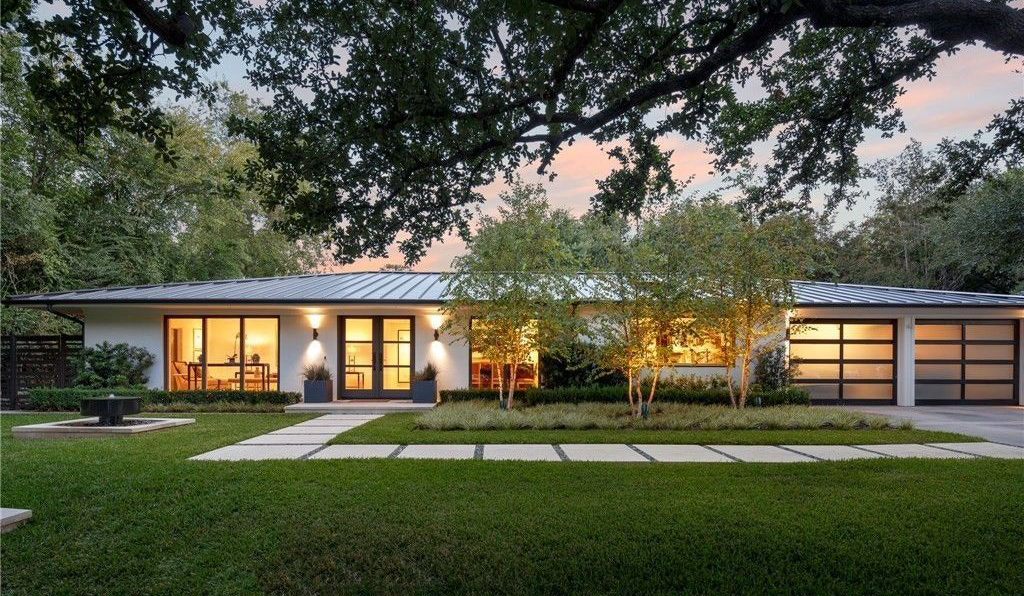 ---
The ranch home is considered to be one of the most popular home styles in the market today. One-level living and the relative ease of maintenance make it a great choice for just about any homeowner. What we know as a ranch house today, was originally inspired by early California settlers to what is now California, from Mexico. The first ranch home in America can be traced to a southern California architect named Cliff May who is widely credit with designing the first modern ranch-style home as we know them, in the year 1932. Today, you can find an almost endless number of variations on the original ranch home with names like atomic ranch, midcentury modern, California ranch, raised ranch, split level ranch, suburban ranch and the list goes on.
Design Elements of the Ranch Home
House Beautiful calls ranch homes "modest one-story homes with a low-to-the-ground profile that stretches horizontally rather than vertically. Covered by a low-pitched roof with wide, overhanging eaves, they typically have an L- or U-shaped layout surrounding a patio in the backyard"
In a very basic sense, this matter-of-fact description is accurate but won't inspire anyone to feel excited about owning one of these amazing homes. In fact, it's downright boring. To me, the ranch home does not have to be "modest" at all and, in any of the common one-level forms, is the perfect blank canvas from which to create a home space and floor plan that can both meet current trends and be timeless at the same time. It's flexible enough to adapt comfortably to different roof lines and virtually any material used in modern homebuilding can look good on or in a ranch home.
Common Characteristics of a Ranch Home
There are several characteristics that you will likely find in most ranch homes. Generally, they are one-story homes so they just feel close to the ground and the roofs don't usually have a high pitch either so they can feel like they are part of the landscape rather than set apart from it. You will also most often find them on lots that are wide to better accommodate the rooms needed in the design and they are typically shaped like a straight line, an "L" or a "U".
One Story Homes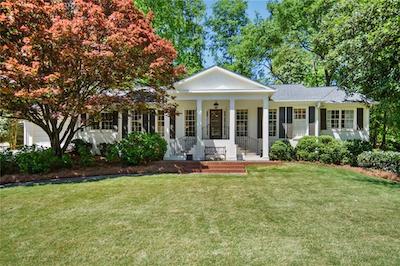 At a basic level, a ranch is a one-story home. There are split level ranch homes and even ranch homes that have a bonus room and others that have basements but its not really a ranch home if it has 2 or more full stories. In the market today, a stepless, one-story ranch home is the premium version since it can be adapted for people at any age. If it has a basement it's even more sought after in today's market as it has additional storage space or even room for additional entertainment spaces below the main level. There are a number of traditional ranch homes like a contemporary, midcentury modern (mid-mod), atomic, California, suburban, raised, and even new twists like modern farmhouse style ranch homes. The ranch home very well may be the most versatile of all private residential architectural designs because of the simple basic form from which all ranch homes are derived.
Roofline
Starting from the top, the most common design for a roofline on a ranch home is a comparatively low pitch. Common variations to a roofline on a ranch often come in the form of dormers or one or more gabled roofs perpendicular to the main roofline. These can add depth and space either forward or to the back of the house and are an easy way to add character. An example of a porch with a second gabled roof can be seen in the photo just above.
Asymmetry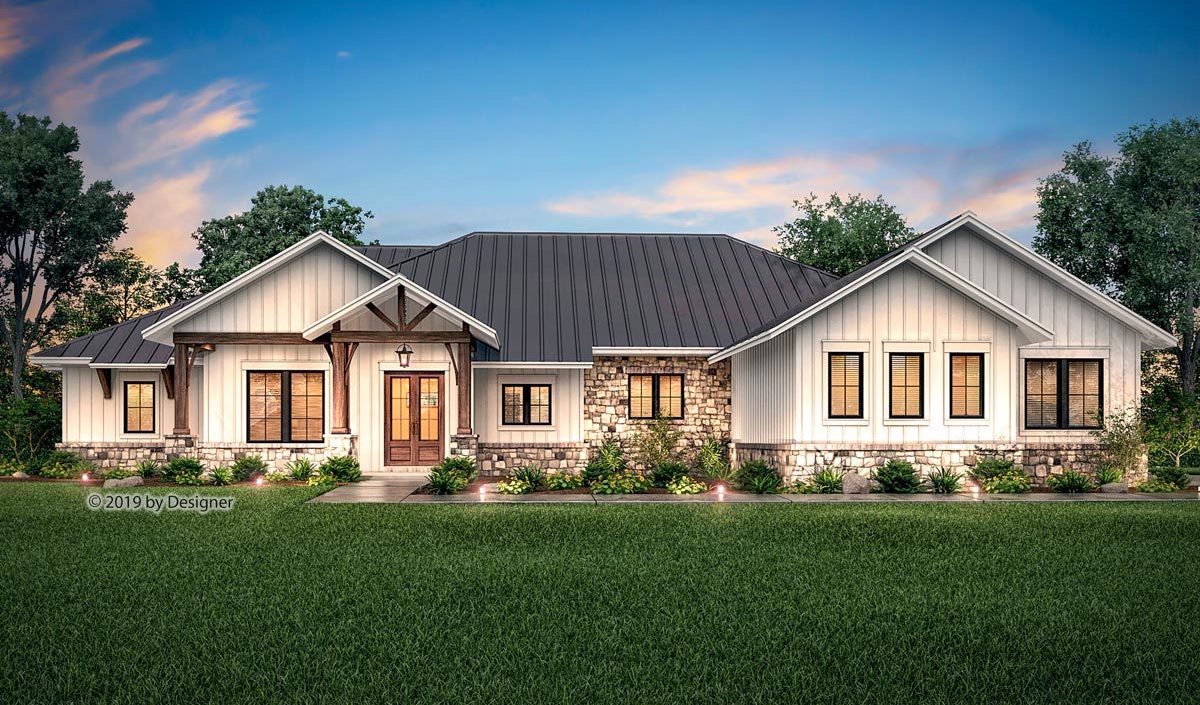 ---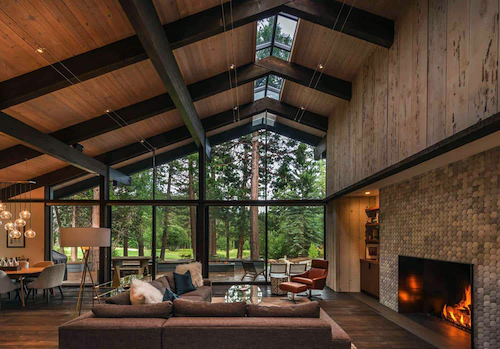 Asymmetry, inside and outside - a typical characteristic of a well thought out ranch home is a one that doesn't have symmetrical lines. It certainly can, but it isn't a characteristic required of, or even common to, ranch homes. The above exterior image is an example of how one side can have a different depth and a different roofline and the house can maintain a strong street presence. This asymmetry actually lends itself to the malleable design qualities of a ranch. Since it's not necessary for one side to mirror match the other side of a room or even the other side of the house, you can create dramatic spaces like this midcentury modern living room and fireplace with windows that end before they become symmetrical. It can add real character and help create a well-designed space.
Exterior Siding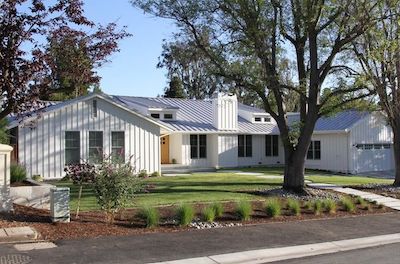 Exterior materials used for ranch homes generally conform to the climate found near the home and the materials found on homes of different styles in the region. There really are no taboo siding materials for a ranch. In certain places, you may see more stucco and other places, like here in Atlanta, common exterior materials are brick and lap siding. Board & Batten siding has made something of a comeback as a siding choice that can look great with the right roof. As with most houses, the most common roofing material is the typical asphalt shingle. However, metal roofs have become much more than a trend and come in many colors to complement the color of the siding.
Windows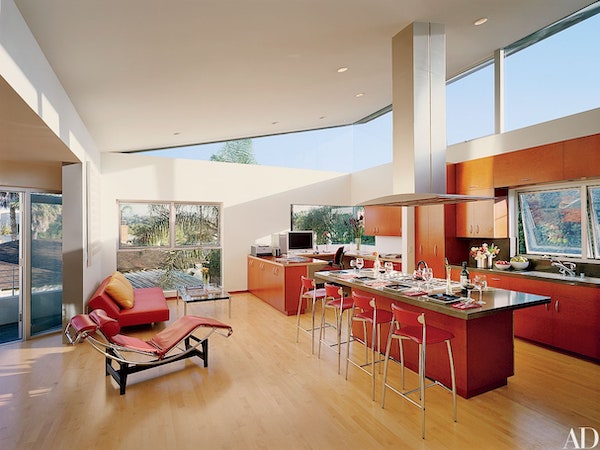 Windows are major architectural elements in ranch home design. Clerestory windows, a design that dates back to the ancient Egyptians and are up high on the upper wall near the roofline, are common in midcentury modern designs and serve multiple functions; they bring natural light in from a different angle that adds to the feeling of space and energy and they free up wall space for art, furniture or anything else you might not otherwise have room for. They do this while helping to maintain additional privacy you don't get without block windows in more conventional locations. Other window elements found on a number of different styles of ranch homes are large, floor-to-ceiling picture windows or glass sliding doors. Modern, atomic ranch, contemporary and farmhouse style ranch homes tend to have these large windows rather than the standard suburban or rambler ranch.
Metal Roofing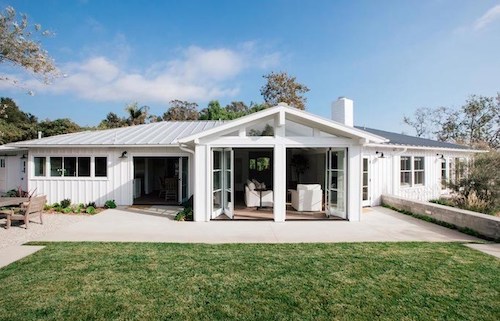 Metal Roofing - another design element in many different styles of ranch homes is the incorporation of a metal roof. Metal roofs on a ranch contribute to the simple, practical design in keeping with the original concept of how a ranch was built. While metal roofs are not new to home construction, they only became common elements after about the mid-19th century when corrugated and galvanized metal became more readily available. Today we see metal roofs on porches, and other accents and frequently, the entire roof. A metal roof on a ranch creates clean lines and is in keeping with the theme of simplicity.
Twists On The Ranch Design
There is an almost endless number of variations and creative iterations of what we think of as a ranch home. Asymmetry, creativity in roof design, no rules about how the floorplan should flow or where windows have to go and the ability to use any material, inside or outside make the ranch home the most versatile of all home styles.
Where Can You Find A Great Ranch Home To Buy In Atlanta?
The simple answer is just about anywhere you are already looking to live. Virtually every area of Mero Atlanta has ranch homes available. They range in price from under $100,000 to well into the multi-million dollars. Contact us and let us know what kind of ranch you want and where you want it and let our team help you find your dream ranch home!
Ranch Homes In Atlanta For Sale
Any easy way to find ranch homes for sale in Atlanta, or in any of the Atlanta area cities is to search by "House Style" in the "Additional Features" section of the advanced search page right here on the website. Next, narrow the search by selecting the city or cities of interest to you along with any of the other advanced criteria available. If it's listed for sale in the Mulitple Listing Service, we have it listed for sale here on the website. This page shows all of the ranch homes for sale in Atlanta starting with the newest ranch home listings first.
Search Homes For Sale By Architectural Style
Types Of Ranch Homes
Mid-Century Modern Ranch/Atomic Ranch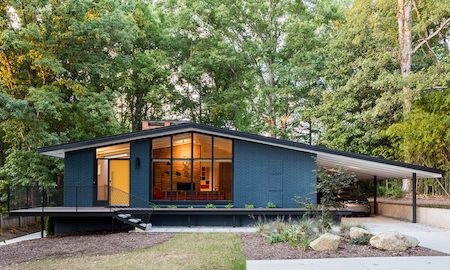 Mid-Century Modern homes and Atomic Ranch homes, for the purposes here, will be used as interchangeable terms as the Atomic Ranch was basically built in the midcentury era of ranch homebuilding. Mid-Century homes don't have to be ranch homes but there are ranch homes that were designed with Mid-Century Modern architecture, like Atomic Ranches. The Mid-Century is actually a style that extends well beyond homes and architecture into many facets of life. This style of home was built between the 1930s and 1960s and is a well carved out niche that we can now say stands the test of time and remains popular in virtually every area of the United States. A midcentury ranch home will embody the main characteristics of Mid-Century design which fuses modern/futuristic, minimalist, angular, clean lines, and a general monochromatic color scheme with color used as accents on the interior and the exterior of the homes. Atomic Ranch and Mid-Century Ranch homes are popular for their striking rooflines, windows, and uncluttered spaces along with a sense of unified harmony with the surrounding landscape.
Raised Ranch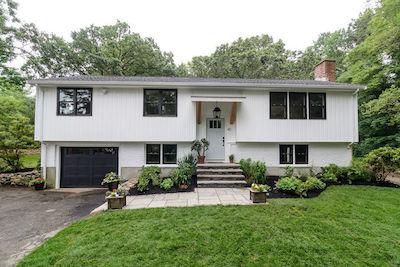 A raised ranch is really more of a hybrid than a style. A common characteristic of a raised ranch is that you enter the front door with a split foyer. Basically, you can take half a flight of stairs up or half a flight of stairs down. If you take the stairs up, you find yourself in a traditional ranch one-story home with the bedrooms, kitchen and main living spaces as you would expect in a ranch. If you take the stairs down, you will go to the garage on one side of the house and perhaps additional finished space similar to a basement that can be used as flex space for an office, den, playroom, media room or anything else that is less desirable to have on the main level on the other side of the house. Often times you will find raised ranch homes will have vaulted ceilings on the main level although it is not a requirement. These are economical houses that make efficient use of the available square footage. The main disadvantages of the raised ranch are the garage below kitchen level and the split foyer which can present something of an awkward entry to those unfamiliar with the style.
Split Level Ranch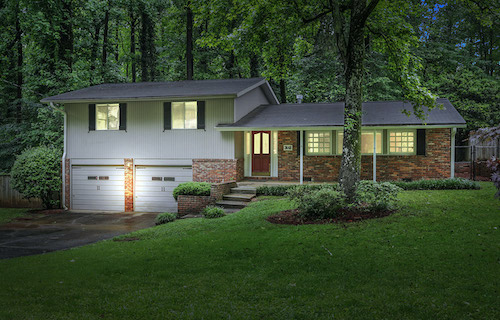 The split level ranch is sometimes confused with the raised ranch and they are not the same. Where a raised ranch has all of the main living space on one level with a split foyer, a split level ranch typically has the kitchen and the public areas of the home on the same level as the front door with a few steps up to reach the bedrooms and bathrooms and a few steps down to the garage and flex space with the stairs located somewhere else on the interior of the home. Another differentiating characteristic between a split-level and a raised ranch is that the roofline is typically different heights for the public and private spaces on a split level and a raised ranch most frequently has a single gable roof like a traditional suburban ranch.
Contact Us To Sell Your Home - 404-630-3187
---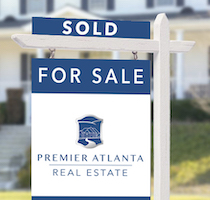 Atlanta is a very competitive real estate market. When you choose a real estate agent for the job to sell your home in, ensure your agent is knowledgeable about the national real estate market, the overall area, the hyperlocal market, has a clearly defined marketing plan and a proven track record of home sales. A real estate agent in today's market will be able to effectively use the internet and social media, host impressive open houses, provide you with professional photography, ensure your home is staged well and consult you on proper pricing to sell your home for the most money in the least amount of time. Contact us to learn more about how your home can benefit from a combination of traditional and powerful internet marketing to place your home for sale in front of a much larger audience of potential buyers. No obligation - contact us now to learn more.