Will Cooling Weather Slow The Hot Real Estate Market In Atlanta?
Posted by Ryan Ward on Tuesday, November 21, 2023 at 8:39:01 AM
By Ryan Ward / November 21, 2023
Comment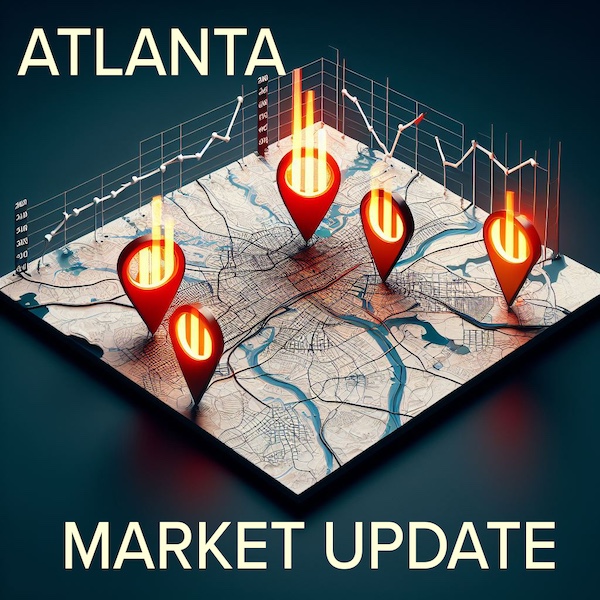 I spend a lot of time collecting, reviewing, analyzing, and trying to make sense of the real estate market. I have a passion for real estate and I can't imagine trying to advise clients without having command of the topic. Whether I'm playing golf, at a party, hanging out with friends, or find myself chatting in the checkout line at the grocery store, when people find out I'm in real estate, they have one question - "how's the market?" - and I should be able to answer it!
The real, long answer, is that it depends on whether you are a buyer or seller, your motivation, goals, etc., and without knowing all of that, it's impossible to give you a bespoke answer. I can tell you what the market says it's doing, what happened, and what that means going forward with context and we can pick it up from there so let's dive in together!
The Fall/Winter 2023 Atlanta Real Estate Market
First up you will see that the supply of homes (inventory level or absorption rate) is lower in October of 2023 than the same time last year. Higher interest rates have slowed sales but what is often overlooked is that higher interest rates also slowed supply levels since many homeowners are unwilling to give up their extremely low interest rates from the past several years. As a result, we remain in a market with tight (low) inventory. We currently have 3.36 months of supply this year compared to 3.41 months of supply at the same time last year. It is essentially, unchanged and just slightly lower.
Absorption Rate
This first chart takes the available inventory of homes and the average number of sales per month and determines how long it would take to sell all of the available listings at the current rate of sales. The baseline says that if there is less than a 6-month supply, it is a seller's market and if there is greater than a 6-month supply, it is a buyer's market. It is true that the number of months is somewhat price sensitive. For example, higher priced homes can have more months of supply and still be in a seller's market whereas lower priced homes may be slightly less than 6 months to be in a seller's market. We keep charts on differing price points as well and may share those in subsequent updates.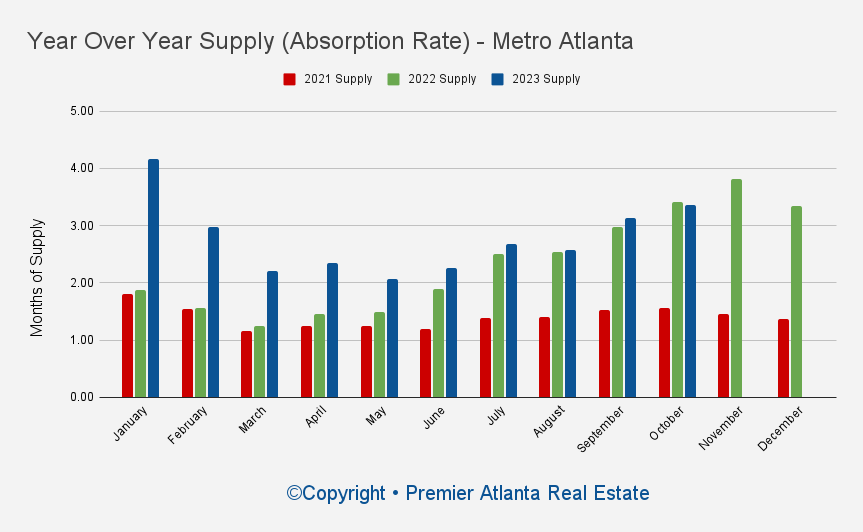 What Does It Mean?
Any discussion of a chart that shows supply, or the absorption rate, should also recognize that it is considered a lagging indicator since we are looking back at what happened rather than forward at what will happen. This is why we show multiple years so we can see patterns and likelihoods. If the pattern doesn't continue as expected, we dive deeper into why that might be to see if we can figure out what change is coming. This chart looks to be following the expected trends.
---
Average Home Prices
With supply and demand close to what we have seen over the past few years, it follows that prices are still rising. Metro Atlanta real estate market prices are higher month over month and year over year. I would expect them to drop over the next 2-4 months and then rise again through the traditional housing cycle. Remember too that looking at average prices is also a lagging indicator and is historically lower in the coldest months of the year.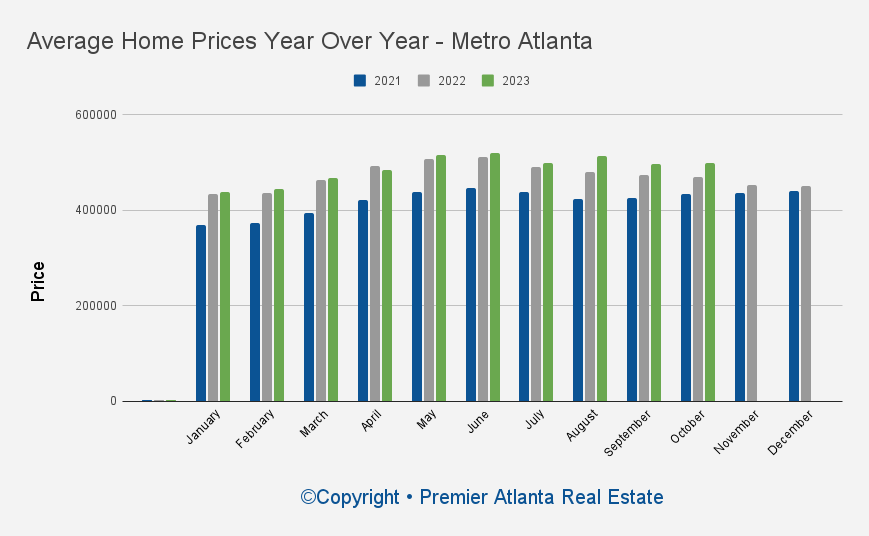 What Does it Mean?
With inventory levels low going into the cooler months and prices that still have the upward momentum of summer even as we enter Fall, it looks like this market has finally moved past the trends we saw in COVID times and reverted back to historical cycles.
---
Get In or Stay Out of the Market?
The best time to plant a tree or buy a house was a long, long time ago. For most people, the next best time is still right now. I hear radio pundits, including some locally, like Clark Howard, say that now is the time to wait but I don't see any statistical or financial data that would support that recommendation. We should never buy, sell, or invest based on how something feels - and I realize it doesn't "feel" like the best time to buy with the higher interest rates we are seeing.
However, if history serves as any sort of predictor of future outcomes, now is certainly a better time than waiting. If rates do go down as the economy and forecasts are predicting, waiting will cost even more because there is growing pent-up demand from people who have been sitting out the last year due to higher rates. Once they get back in the market and with inventory rates that are low, prices and bidding wars are likely to be the outcome again.
Interest rates look like they will fall for several economic reasons unrelated to real estate from what we can tell right now. The jobs market shows signs of cooling, the 10-year Treasury yield has come down and the spread between the 30-year mortgage rate and the 10-year yield is currently much higher than we have seen in the past. This is due in part because banks know many people getting these loans will refinance out of them as soon as they can. Interest is frontloaded so the banks are trying to make sure they don't lose money when homeowners refinance out of them. If the spread were to go back to historical norms, we would already have interest rates in the low 6% range.
Stick With "Why" You Want to Buy or Sell
I can't time the market and neither can you. If you are thinking about buying, selling, or both, you can certainly look at the data and see what it says. You will find that at almost every point in history, it would be better to buy at that time than to wait for something to change that you think would turn the market in your favor.
For now, the real estate market is providing clear signals. Waiting to buy will more than likely cost you more money than buying now for most people.
---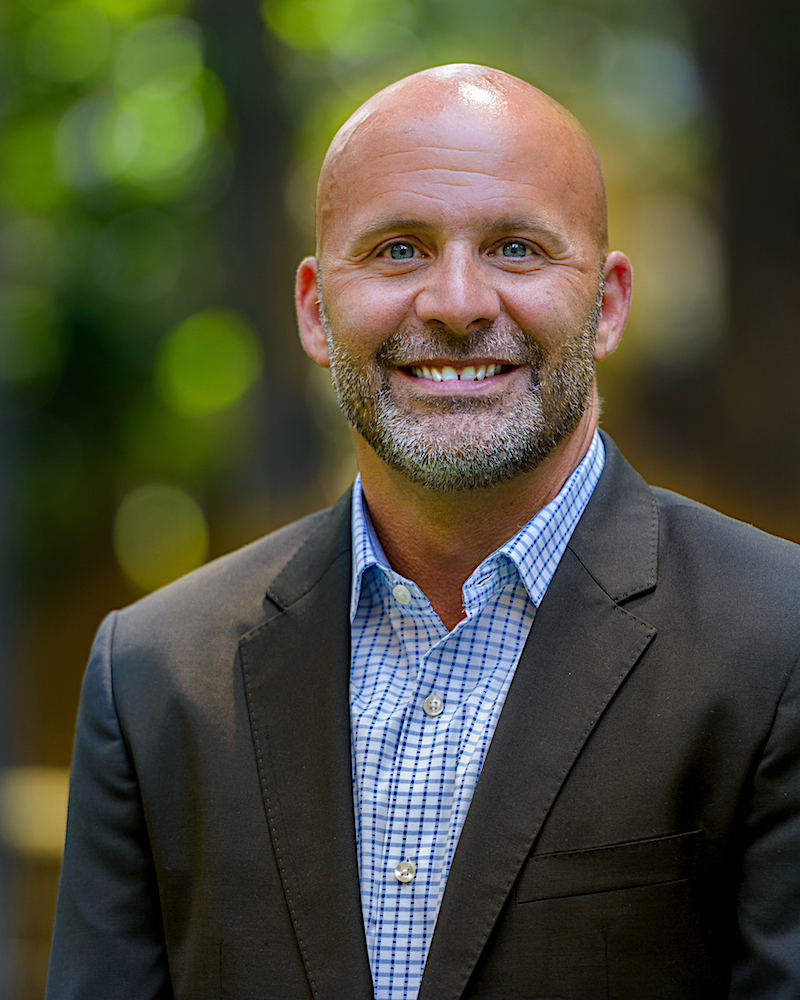 Ryan Ward, Broker
Cell: 404-630-3187
Ryan Ward is the Managing Broker and Owner of Premier Atlanta Real Estate and School Director of Thrive Real Estate Academy.