The Market is Hot! Or is it???
Posted by Ryan Ward on Tuesday, August 20, 2013 at 7:16 PM
By Ryan Ward / August 20, 2013
3 Comments
Homes are selling in 3 days! Rates are going up! It's a great time to buy!!!
Wait. Please!
All three of those statements are generally true, but they don't really tell you what's going on in its entirety and they certainly don't give you enough information to make an informed decision. They are good talking points, but there is a lot more going on behind the scenes than these three statements make it out to be so I will try to address each one individually.
Homes are selling in 3 days - partially true. Some homes are selling in 3 days, but certainly not all of them. If your home is priced correctly for its condition and location, the average days on market is about 15 days. What's interesting about this is that it doesn't matter what price point we are talking about. In fact, it really doesn't matter which moment in time we are talking about either - even the worst part of the latest downturn in the market. In my view, this is really the first fundamental law of real estate (no, it isn't location because if it isn't priced right for it's condition, it won't sell). If there is a market for your home and it is priced correctly for its condition and location and marketed properly, it will sell in about 2 weeks. For homes between $500,000 and $1,000,000 it's about 21 days and for homes between $1,000,000 and $2,000,000 it's about 28 days and above that all bets are off because the actual market for these homes is quite small (except for Buckhead where the price may be closer to $3,000,000). The question really is what price will it sell for. See chart for more details about days on market. I see these charts every quarter and they just don't change.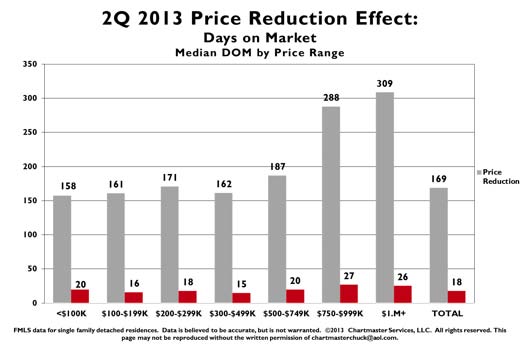 Rates are going up - says who? Have you paid any attention to the economy lately? Unemployment is still high, especially the real unemployment. Growth is slow and it seems every month they are revising last months numbers down. Don't forget, rates already went up! They aren't going to go up much if at all any time soon. Here is Bankrate's chart of the last 6 months. Honestly, I don't see them moving up much until spring of 2014.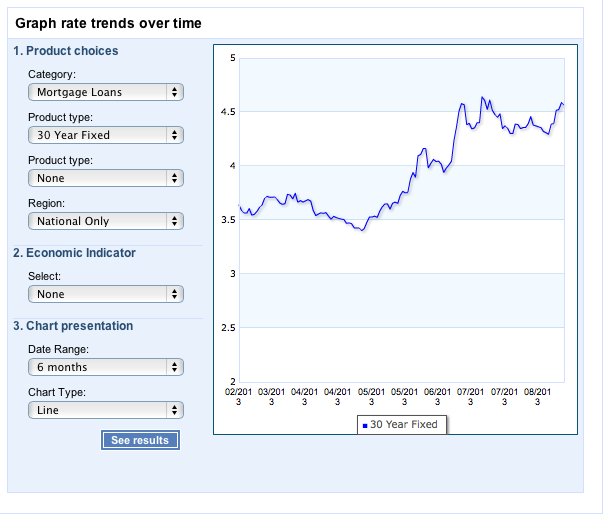 It's a great time to buy - I think so. So much so that I just bought a house myself. I paid full price, no closing costs, received no termite bond or home warranty and had to buy it as-is. It was also on the market less than 24 hours and had multiple offers. That may not sound like a great time to buy to a lot of people, but the truth is that if you want one of the "good" homes that is priced right for its location and condition, that's the reality. I do think it's a great time to buy but that is predicated on a lot more than just getting in before prices go up. You know yourself if it's a good time to buy. Do you have the equity to sell and the cash to close on a new house? Do you have kids in school that would make it difficult to move? There are too many factors that vary from person to person to say this so recklessly. If you aren't sure, talk to me and we can assess whether it makes sense for you or not.
Ok, Ok...is the market hot, or not?
Actually it is, or at least it was this spring and summer! The jury is out on whether it will continue or not. I say we are still in a rather precarious position. Sales volume is technically lower than last year, but that is because the market below $100,000 is down so dramatically that the increase at all other price points can't offset it. In reality, it's up substantially at all other price points. See chart below.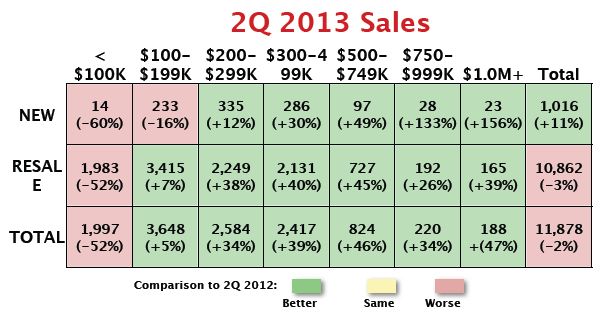 Here is What is Happening
Supply is low, very low (see chart below), demand is up and it has created a compressed market. Supply remains low because so many people still have little to no equity to sell current homes keeping them off the market, foreclosures and short sales continue to diminish and I don't really see any of that shadow inventory people have talked about for years ever materializing. Going forward, I think the market flattens out some and the numbers are beginning to bear that out although it can be shown very easily in a chart yet. Sales volume is slowing as it does every year at this time and inventory is beginning to rise. At the end of the second quarter there was about a 3 month supply of homes. For distressed properties, supply was under 2 months. The overall supply is rising but hasn't been rising long enough to call it a trend. This last chart shows how the reduced supply (and increased demand) has affected prices. It's almost scary how fast the prices rose. I really do not wish to see that continue. Not the last tick mark up on supply...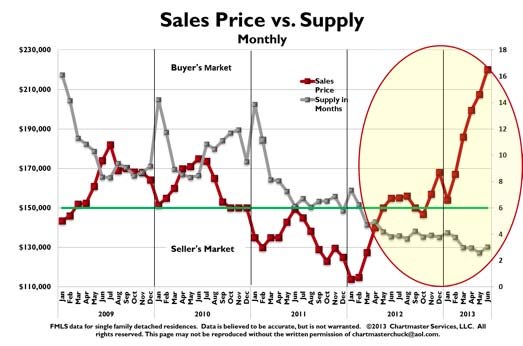 Lastly...
I just gave the entire presentation consisting of two power points with about 100 of these charts each to our office at a team meeting a couple of weeks ago and I need to give credit where it is due and that goes to Chartmasters. We are lucky to have such a comprehensive statistical analysis provided to us and I want to say thanks.
If you have any questions, please leave them in the comments, call me or use the contact form. Everyone has their favorite way :)