Crabapple's Future Still looks Bright in the Long Term - is it the Right Place to Buy Now?
Posted by Ryan Ward on Thursday, January 1, 2009 at 11:06:28 AM
By Ryan Ward / January 1, 2009
6 Comments

When Crabapple Crossroads was first envisioned as a walkable mixed use area of businesses, homes and townhomes right on the border of Alpharetta in Milton, the idea was welcomed as an exciting use of space and brought a fresh and inviting concept to the area. Businesses opened and homes were sold and it quickly became one of the most popular places to live for homeowners seeking the unique combination rarely found outside of "the city".
Enter a "change" in the real estate market and a drive through the overlay district no longer looks as appealing for buyers in the market today, but, this is an area where prices have come down and may now offer some of the best opportunities for buyers looking for a complete community - not just a neighborhood with a pool and tennis court. There are problems for sure. Especially for the builders, but, that does in fact mean opportunity for someone else and that means buyers.
So what does the the future hold for the one time darling community in North Fulton? I drove out yesterday to get some photos for this report and to look around and see how development was coming along. It's been about a month since I had actually stopped and got out of my car and I tried to look at the area from a potential buyers eyes to get a different take on it than what I usually see from my perspective. I still really like what I see. The architecture, thoughtful use of space, and continued development of the businesses still feels like it will turn in to a small community bursting with energy and a positive marriage of the best parts of what many people yearn for from the past combined with today's amenities and sustainable eco-growth that show the forward thinking originally envisioned in the plan.
Building Continues

Along Crabapple Road west of Broadwell, retail business space continues to be built (this is a photo of the north side of Crabapple) and John Wieland is building in Braeburn - 4,000 + square foot homes with an entrance off of Birmingham Hwy just north of Crabapple. They aren't listed in the MLS yet to try and save some money on fees, I suppose, but, they are building and prices on their website have already dropped $40,000 and $50,000. All of this does bide well for buyers in the new year, but, there are definitely some cold feet. Buyers will need to get warmed up before we see the area reach completion.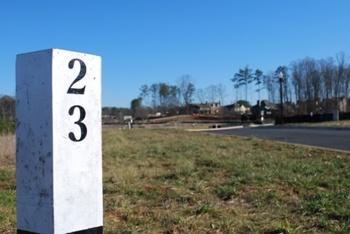 There are large areas containing nothing but empty lots. This is really a big part of the problem. Unlike in the past when buyers looked at a new community like this and thought that if they didn't buy right now prices would only go up, they now feel like if they wait, prices will go down. What would you do if you were in the market right now? The answer really depends on your situation. It might actually be the right time to buy for you or maybe it isn't, but, there are too many factors to consider in this article. I would suggest you give me a call if you want to talk about it and see if it would make sense for you. There are up and down sides and risk and other factors to consider even in what is one of the more thoughtfully designed neighborhoods in North Fulton.
Crabapple is a Great Location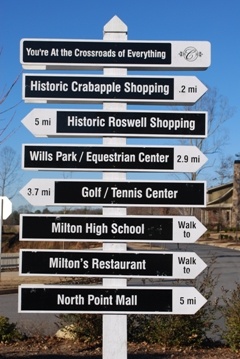 This sign in the center of Crabapple Crossroads represents the essence of the location and is part of what makes the Crabapple Overlay District one of the gems moving forward. Literally walking distance to dining, shops, schools, church and new friends, the area is a model of sustainable development.
Convenience and easy access - by foot even, make this area of Milton different and attempts to improve the quality of life issues many people object to about living in North Fulton. Its for these reasons that the long term outlook for the area, in my opinion, looks better than it does for some of the other nearby areas that can't boast or make claims of convenience and smart growth like that which can be made here.
Crabapple Crossing still has a few vacant lots left to build on with one resale, Crabapple Crossroads has a wonderful selection of homes finished and waiting for someone and Crabapple Station has one just about completed and room for a few more homes. There are lots left on the south side of Crabapple and a full tract of lots left on the north side waiting to be built once the market balances out and inventories return to more normal levels.
All in all, if you haven't been out to the area and you are in the market for a home right now, I strongly suggest that you consider at least looking at these homes. Given the current market conditons, you might find yourself able to negotiate a solid value and a home and area worth living in for many years to come.