Roswell Real Estate Market Updates
Posted by Ryan Ward on Thursday, June 20, 2019 at 7:28 AM
By Ryan Ward / June 20, 2019
Comment
If you are looking for current and past information on the Roswell real estate market, you can find it here. Check back frequently to learn the latest. This post contains both current and past information about the Roswell real estate market. If you would like or need specific or additional information and context for news and other media, fill out the contact form below or call us directly and ask to speak with Ryan Ward at 770-604-1860.
Roswell Market Report May 2019

What Do These Statistics Mean For Roswell?
Still A Seller's Market
While we do see signs of change possible on the horizon in the overall real estate market in Metro Atlanta, it remains a seller's market for the majority of price points in Roswell and all of them under one million dollars. The Active/Pending ratio, which is a leading indicator, is lower for the second straight month at 47.1% compared to 54% that we saw last month. June is historically the busiest month of the year for real estate sales in Roswell and all of Atlanta. We would really like to see this number above 50%.
Demand For Homes In Roswell Is Strong
There were more sales this year in May at 168 than last year at 157 and this broke what looked like the beginning a slowing trend from the previous 2 months.
---
Roswell Market Report April 2019

What Do These Statistics Mean For Roswell?
Still A Seller's Market
First of all, it remains a seller's market. Inventory is rising slowly but sales were very strong in April - this is the first month in the last 6 where there has been a statistically relevant increase in year over year sales. The Active/Pending ratio, which is a leading indicator, is lower at 54% compared to 63% that we saw last month. This could mean May sales are ultimately lower than last year.
Average And Median Prices Down And Why
Perhaps the most noteworthy bit of news is that the average sales price in Roswell is down 10.9% to 438,933 from April of 2018 which was $492,829. It's important to note here that the median price is also down 9.5%.
The biggest factor? In 2018 there were 6 sales ranging from $900,000 to $1,700,000. In 2019 there were no sales above $900,000.
Remember, there were actually more sales this year in April than last year in Roswell so we must be mindful that one month does not make a trend. One month does make you pause and take special note of the numbers from next month to see if a trend is coming and we will keep an eye on the market!
---
Roswell Market Report March 2019

Roswell Real Estate Market Update: March 2019
Main Takeaways:
The pendulum continues to slowly swing away from an overheated seller's market towards balance. It is still a seller's market even as the trends show moderate slowdowns compared to last year.
Key Points:
March of 2019 was similar to March of 2018 in many ways.
Demand is flat with 92 sales in March of 2019 and 93 sales in 2018
Median days to sell is up 100% from 16 days to 32 days meaning half of the homes in Roswell sold in 32 days or less while half took longer than 32 days
Inventory was slightly higher at 4.1 months yet still a seller's market
Overall Metro Atlanta Market Effect
The majority of indicators still show slowing through the month of April compared to last year. This is a trend that actually started in July of 2018. Price is a lagging indicator and we are still seeing them rise, just at slower rates. Inventory continues to go up monthly and demand is consistently slightly lower than the year over year monthly comparison. This chart from the Keller Williams Chartmasters presentation of the overall Metro Atlanta market shows a slowdown that simply can't be ignored: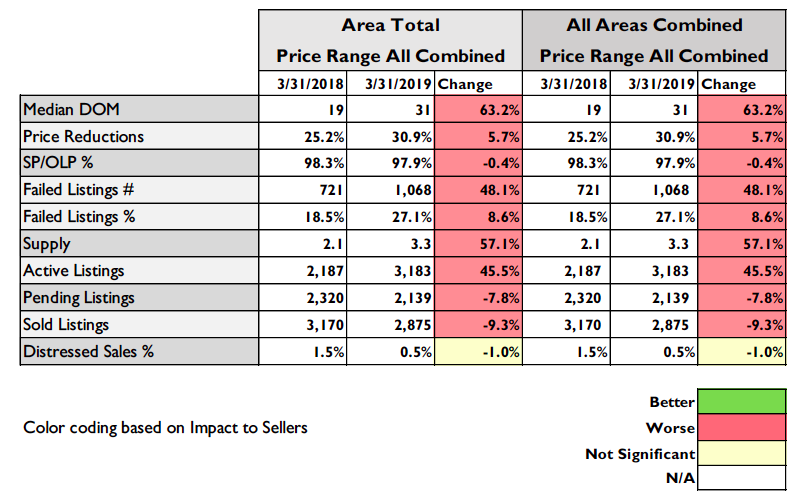 Is It A Shift Or A Correction?
Right now, it's a correction. When the bottom fell out during the last downturn, the circumstances were very different. Currently, this is still an excellent time to sell your home. Prices are still rising, the economy is strong and there is no lending crisis.
---
Spring Market of 2016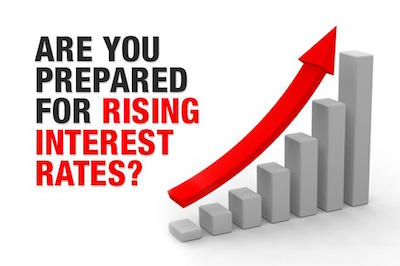 In our last market update when we looked at the Alpharetta real estate market, it appeared that we were starting to see signs that a pricing correction may be on the horizon. With the overall economy stable, and in an election year, there really shouldn't be too many outside factors that will influence the real estate market. Except for one major influence - the Federal Reserve. There is a strong possibility that the Fed will raise rates.
Rising Interest Rates Make Homes Less Affordable
In recent weeks, the Fed has been hinting at the idea of raising interest rates and if they do, it will have an impact on the market. If interest rates rise, your buying power decreases because it makes it more expensive to buy a home. When this happens there will be a smaller pool of buyers for homes thus lowering demand and in turn lowering housing prices.
So Should You Wait to Buy?
It all seems so easy - we predict prices to go down so we automatically think the right thing to do is to wait until they do before we buy a home. It's a natural conclusion to draw. However, it really is more complicated than that. First, there is no guarantee that prices will drop and if they do, there will still be certain areas that see very modest, if any price drops. In the higher demand areas, we may only see a leveling off of prices or perhaps an overall drop that only amounts to a few percentage points. That generally isn't enough to draw the conclusion that the right decision is to wait.
How Will it Affect Homes in Roswell?
Roswell is a great example of an area that will have a very small impact in the event that prices to decline as a result of diminished pent up demand and higher interest rates. This is due in large part to the demographics of the area, the schools, the lifestyle and the location. All of these factor into the equation because demand will always be higher in areas like this than the overall real estate market. The best thing we can do is look to see what's happening in the market now, compare it to what it was in the previous year and extrapolate what impact a minor slowdown would have on the area. We can also look back and see how an area like Roswell was impacted during the most recent severe slowdown that began here in 2007. Areas on the north side of Atlanta were not as severely impacted as other areas. We should expect that will be the case again as well.
The Roswell Market - Right Now and Last Year
There are currently 356 homes for sale in Roswell
There are 332 homes under contract above the 356 listed for sale
In the last 90 days 442 homes sold - last year there were 533 or a 17% drop
In the last 6 months 768 homes sold - last year there were 850 or a 9.6% drop
Sales per month are averaging 128
The absorption rate, or months supply of homes, is 2.78 months. Technically it's a little higher because not all of the homes under contract will actually sell
You can see from these numbers that the biggest slowdown from last year has taken place in the last 3 months because the percentage drop is much higher in the last three months than for the last 6 months. While this seems disconcerting to some degree, it is offset by the extremely low inventory. The overall Roswell real estate market is a strong sellers market. This brings us back to what will happen in a slowdown. Well, if the slowdown does occur, and it is likely to happen, it would bring us more in line with a balanced market and not throw us into a strong buyers market. Under this scenario, we would see prices level off more so than for them to drop.
Roswell Market
So with all of that said, I would still be of the opinion that if you are thinking about buying or selling, I don't see any reason to wait. There isn't anything on the horizon that looks like it will have a major impact on pricing - at least in the Roswell area. You can search all Roswell real estate for sale on our website and if you see something you would like more information on, just ask and we will be happy to help.
---
Looking To Buy A Home In Roswell?
Jump over to the Roswell real estate page and let us know how we can help!
Ready To Sell Your Home? Call Us At 770-604-1860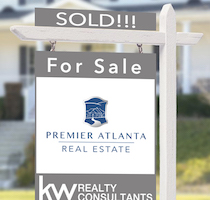 Let's talk. Understanding the market is one component in positioning your home correctly. You'll need premier marketing to be sure your home will stand above the competition. Local knowledge is essential so you can be sure the important features and benefits are presented correctly to buyers. Staging, photography and presentation are critical to showcasing your home in the best ways possible. Set up a no-obligation meeting to discuss selling your home. Call us at 770-604-1860 or fill out the form below!
Contact Us With Questions And Comments