Roswell Real Estate Market Update For March
Posted by Ryan Ward on Thursday, May 2, 2019 at 8:02 PM
By Ryan Ward / May 2, 2019
Comment

Roswell Real Estate Market Update: March 2019
Main Takeaways:
The pendulum continues to slowly swing away from an overheated seller's market towards balance. It is still a seller's market even as the trends show moderate slowdowns compared to last year.
Key Points:
March of 2019 was similar to March of 2018 in many ways.
Demand is flat with 92 sales in March of 2019 and 93 sales in 2018
Median days to sell is up 100% from 16 days to 32 days meaning half of the homes in Roswell sold in 32 days or less while half took longer than 32 days
Inventory was slightly higher at 4.1 months yet still a seller's market
Overall Metro Atlanta Market Effect
The majority of indicators still show slowing through the month of April compared to last year. This is a trend that actually started in July of 2018. Price is a lagging indicator and we are still seeing them rise, just at slower rates. Inventory continues to go up monthly and demand is consistently slightly lower than the year over year monthly comparison. This chart from the Keller Williams Chartmasters presentation of the overall Metro Atlanta market shows a slowdown that simply can't be ignored: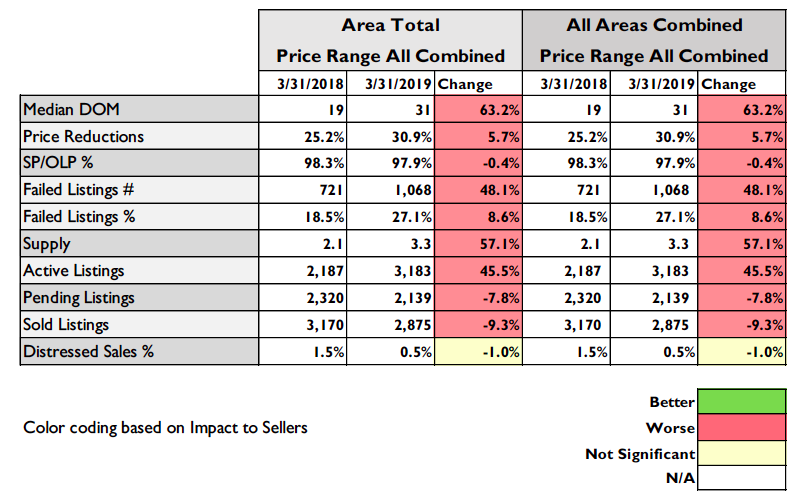 Is It A Shift Or A Correction?
Right now, it's a correction. When the bottom fell out during the last downturn, the circumstances were very different. Currently, this is still an excellent time to sell your home. Prices are still rising, the economy is strong and there is no lending crisis.
Looking To Sell? Call Us At 770-604-1860
Let's talk. Understanding the market is one component in positioning your home correctly. We can set up a no-obligation meeting to discuss selling your home or any other options you may want to consider.
Looking To Buy?
Jump over to the Roswell real estate page and let us know how we can help!