As a homeowner, real estate agent and a potential homebuyer in the coming months I've come across some extreme examples of what not to do with paint when you have your home for sale. First I would say that what people do inside of their homes really is their business. We all have different tastes and colors we prefer and we often use our home as a primary tool to express those tastes. However, when you make a decision to sell your home and the interior photos are out there for world to see and you are trying to make a great impression on a potential buyer, there are some things that you should never overlook. Bold color is at the top of that list because it's impossible to ignore.
If you want your bedroom painted a soft red/pinkish color, by all means slap some paint up on the walls and enjoy it for all that it's worth to you. But seriously, don't post a photo of it online as part of a commodity for sale that costs hundreds of thousands of dollars. It's going to immediately cause an objection and will certainly leave some buyers flipping to the next listing without even giving your home a chance. Here's an example I came across this morning. I'm sure they love it and that's fantastic. But now they want to sell it and it's a great example of how to list a home and not sell it: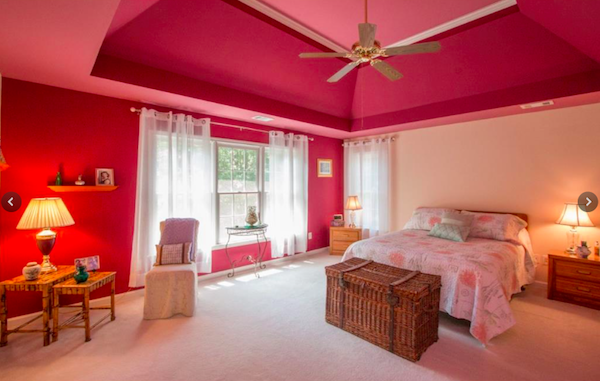 The number of people looking for a home that matches this criteria and price that want their bedroom painted this color in the city you live in and in the location you live in and the price your home is for sale for is zero. This really needs to be painted neutral.
Here's a kitchen - please overlook the clutter momentary (if that's possible and could be another ranting blog posts about what sellers aren't doing that they should be) - can we call this one the Christmas kitchen? How could a buyer possibly make sense of what...