The ups and downs (mostly downs) of the market are likely to continue, at least for most of this year and there is a good chance that the next six months will be the hardest summer selling season yet if you are a seller, but, the statistics are definitely showing some important and changing trends that you probably are not hearing about on the news. What we need to look at is one month from one year compared to the same month from a previous year. This counterbalances annual cycles like the ones that we have here in Atlanta. That's the case everywhere, but I digress. An increase in December over November is meaningless to the market as that is the case every year.
Below are a few sales graphs that I want to explain before you read them and then I'll add some further information below them. The first graph is all residential sales volume of single family homes by month. Below that is only new construction sales. The third is all non-new construction sales. Before you look at them, I want to explain why I did this. A few weeks ago, we had a presentation in our office explaining that the median price difference in Atlanta between new construction and similar resale homes was at an all time high of $122,000. This difference in afford ability has created a very interesting scenario in the real estate market in Atlanta that will begin playing out later this year and will mark the beginning of the end of the downturn locally unless something else terrible happens.
Remember this point for later: New construction cannot come down in price while resale home value can drop. It's going to be important to see what's happening in the market.
O.K., let's look at these graphs. The first is all residential single family sales in Metro Atlanta for 2007, 2008: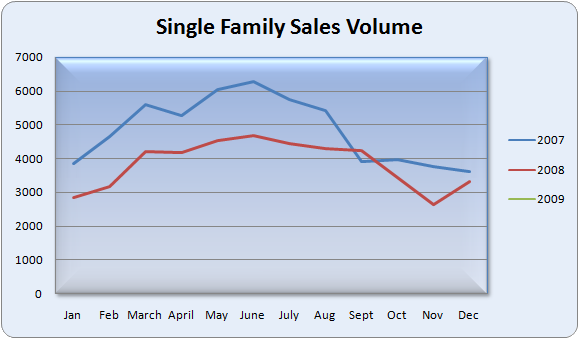 ...