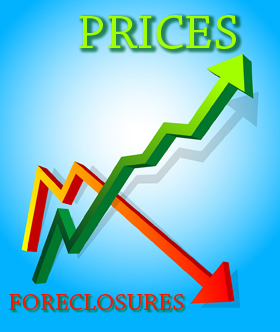 The number of foreclosure sales in Alpharetta in the last 60 days is down 84% from the same time last year. There have only been 6 foreclosure sales in the last 60 days of this year compared with 38 sales during the same period last year This is an amazing statistic if you think about it!
Foreclosures depress home prices because many buyers prefer them and appraisers use them as comparable sales to arrive at valuations for other homes. This is inline with what RealtyTrac reports nationally showing a 29% decline in Q3 of 2013 compared to Q3 of 2012 of foreclosure sales. Of course, foreclosures have always been below the national averages in Alpharetta, but with only 6 selling in the last 60 days, I believe we can make a few observations:
With this few foreclosure sales, prices will not be pressured downward any longer. We've seen this trend happening for about 1 year and half, but these numbers really put the end to any further speculation.
For buyers seeking a "deal", they are gone. It's time we now assess this market from the point of view of value again. Of course, you can still get a deal, but it's based on value, not price.
For sellers, this is great news because buyers no longer have the low priced options they had in previous years so you will see more real buyers and few low ball offers. This should mean prices wil continue to rise (see Alpharetta home prices if you would like to know what your home is worth) provided the economy does not fall out from under us because of what is happening in Washington (I don't see tha happening).
Overall sales don't seem to be trending up from last year, but with supply so low due to fewer foreclosures and the lack of equity for traditional sellers, we remain in a sellers...