Keller Williams Family Reunion 2009 The Recap
Posted by Ryan Ward on Friday, February 27, 2009 at 8:04:58 AM
By Ryan Ward / February 27, 2009
10 Comments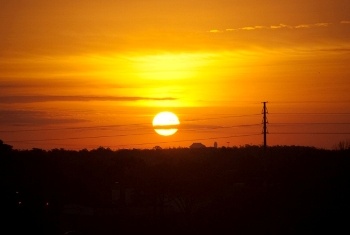 In a perfect prelude of what was to come, the sun rose on a clear, cool Orlando morning for the Keller Williams Family Reunion this year. This was my first time attending and I really didn't know what was in store. Many of the agents in my office who had attended previous KW Family Reunions were either excited for me or sorry that they would not be attending so I was beginning to get excited about the prospects of meeting new agents and learning a great deal in a compressed environment to improve myself, my business and to be able to bring something back with me that I could share with others. What happened was far beyond my wildest expectations.
Day 1 - Sunday and The Vision Speech
Sunday began with me attending my first of what was to be 5 technology classes over the course of several days. Since this was really what I want to use to improve my business, I felt that I would spend the most time in these classes - basically following the 80/20 rule. What happened over the course of the entire Family Reunion event was that the classes I expected to get the most from, I got the least and the classes I expected to help the least turned out to be the ones that I now feel were the most important. Funny how things like that happen. After the first early morning class, everyone who attended from my office met up and walked over to the annual Keller Williams Family Reunion vision speech by Gary Keller. I can't find a link to the whole speech, but, a pretty decent synopsis would go something like this:
Change your expectations. Expect that the next six months are likely to get worse before things get better. Plan on unemployment going higher. Plan on more bailouts, more federal intervention and more worries and run your business with that mindset. Stop with fancy tricks and marketing gimmicks and do what traditionally has worked in good and bad markets before and stop thinking of the real estate market as "good" or "bad". It's neither. It's simply a real estate market.
I've included some of the slides from the presentation below that I found interesting:
This first slide from the vision speech was something of a theme. Perhaps hard to swallow for some at first, but true in the long run and perspective in a market like we are in is sometimes helpful and best seen when we allow ourselves the time and opportunity to get outside of our daily routine.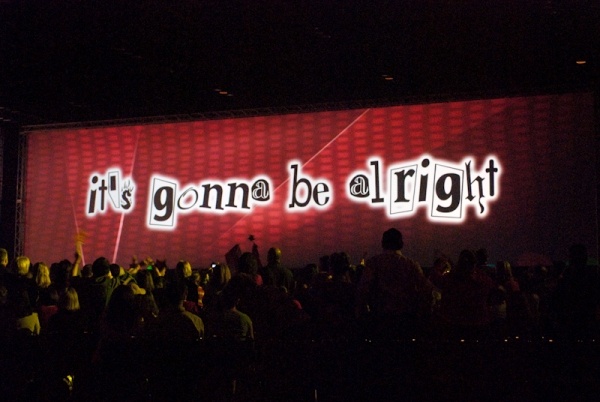 This next slide was something I found as an interesting concept. What's interesting to me is where "opportunity" lies in the formula.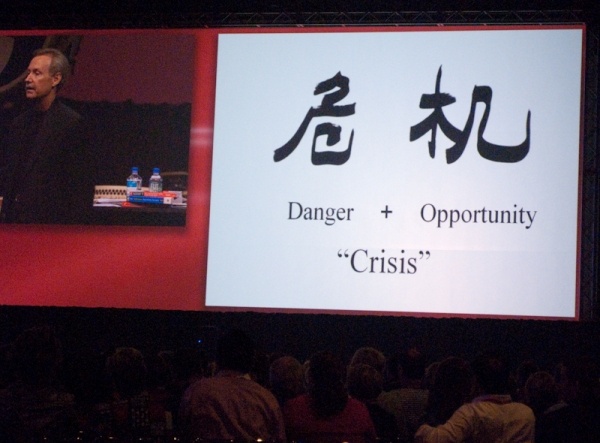 There were some other topics like this one about commissions. It stands to reason that the buying public finds us more useful as a professionals in tougher economic times and when it's harder to sell a home: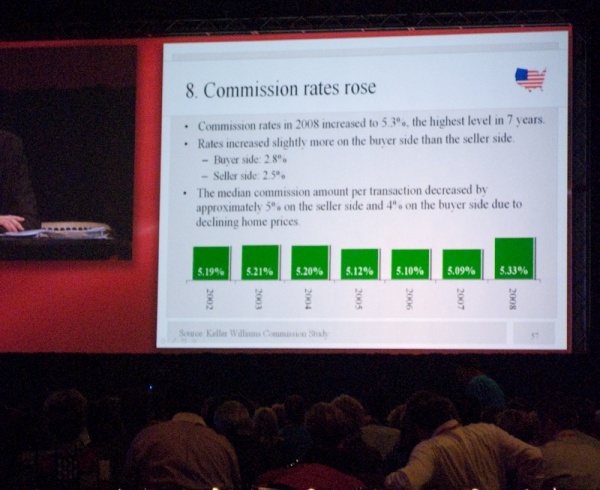 It's sometimes difficult to grasp what's really happening in the financial markets with things changing as quickly as they are right now. Below is a graph of home values with a thin trend line representing a 4% appreciation over time - this would be similar to inflation and historical value increases in housing. Notice where that line is currently and notice where the home values greatly surpassed that trend line. All of those values above the recent trend line represent lost equity, phantom equity, paper equity...whatever you want to call it, but, whatever you call it, know this: It's gone and until that trend line reaches a place equal to those higher values, we will in some ways be upside down: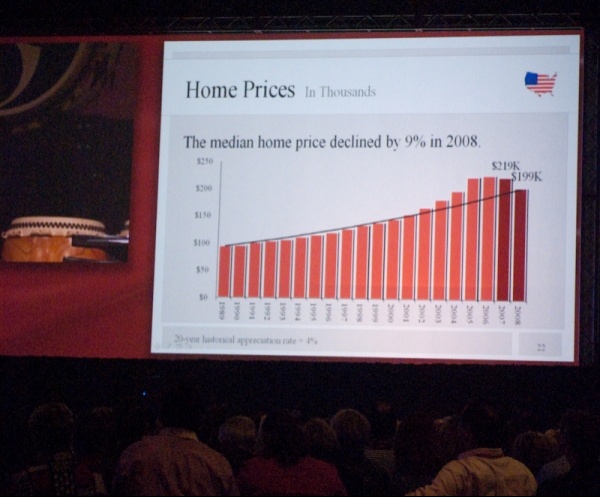 So that was the essence of the vision speech. It's something that many people inside and outside of the company look forward to every year. It's not so much profound as it is clear. Clarity often makes complicated issues much easier to digest.
Day 2 - The Keynote Address
"Tell Me Something Good"
If you have ever attended an event like this with the business you are in, there is often a keynote speaker somewhere mixed into the event. This year the speaker was Clint Swindall, author of Engaged Leadership. As a statistics junkie personally, the vision speech was something that I was more prepared for hearing and understanding than what Clint said and how he said it during the keynote address. There were so many things to take away that I could barely scratch the surface of all he had to say. I bought the book and will be finished with it by the end of the weekend.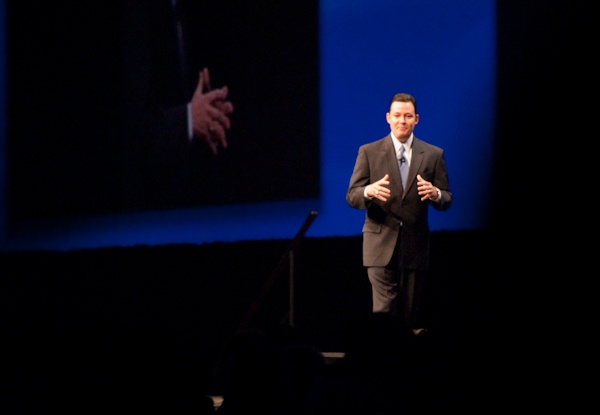 Have you every been in a funk and can't figure out how to get out of it only to find out later that the answer was not just easy, but, right in front of you the whole time and you just couldn't seem to see it no matter how hard you tried? It always turns out to be the simple things; the things that are most important to us that we take for granted like our health, families, our attitudes and perspective. You know, day to day living that often gets in the way of remembering the important things in life. Celebrate the little things, know they are going to happen and be ready for them. Find something good and seize it. Don't let the bad things get in the way. They are going to happen, but, we can't let them interfere with who we are. that's the type of speech it was, but, the presentation and the "ahas" were big. When it was over, I felt I had already received more than my money's worth from the entire trip and would have been OK if it ended then. But it did not.
The Rest of Keller Williams Family Reunion
The rest of KW Family Reunion this year was filled with opportunity to learn from some of the very best real estate professionals in the industry. Agents and teams closing 200 and 300 transactions a year on stage teaching what and how they are as successful as they are. There is a lot to take away from an event where you have an opportunity to meet so many agents who are willing to give away their methods for creating the tremendous success that they have attained and it says something about Keller Williams as a whole that they are even willing to get up and share that information knowing full well that they may be helping someone else take away some of the very market share that they enjoy. It's just the way Keller Williams is as a company. It's part of the culture and a big part of the reason I am with Keller Williams.
What cannot be measured in dollars or even knowledge gained are the relationships forged when people willingly commit to taking the time and effort required to get out of their daily lives, leave the comfort of their homes and families and collectively commit to making themselves better. Better in our profession and better as people. Such is the way I feel now that I have come home. As a group from the Keller Williams Realty Consultants office in Roswell, GA - a suburb of Atlanta, we were largely brought closer together because of this experience. Our friendships, professional and personal strengthened in ways immeasurable to those who did not attend. This to me, will be the lasting gift from attending.
Now we are all back. Home from the high of the event. Back to the day to day that is our lives and we all have a choice. After all, no amount of information and experience can ever amount to anything if we don't take action on that knowledge and experience gained. For the experience to translate into something better, we must take action. My first day back, I chose to not do very much but to reflect and reorganize all of my notes and develop a plan of action. I have my plan. I am taking the actions. I will be better for it, my family will be better for it and all of the people who get to know me be them friends or clients will be better for it.
Such was my experience at Keller Williams Family Reunion 2009 in Orlando, Florida. I will be reserving my room for next year this coming week.