Following a Foreclosure in Roswell - This One in Brookfield Country Club has Potential
Posted by Ryan Ward on Sunday, January 25, 2009 at 10:13:43 PM
By Ryan Ward / January 25, 2009
3 Comments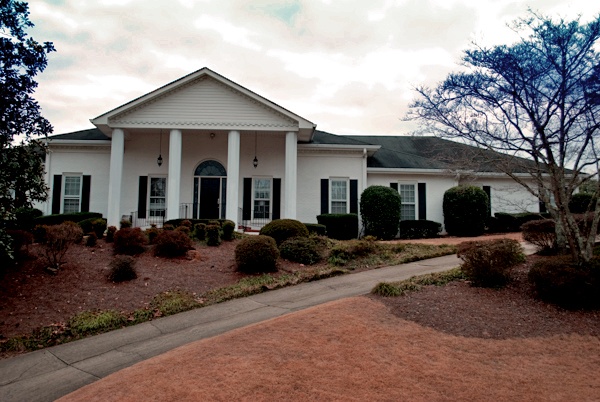 There is a potentially really good foreclosure listing that just came on the market today and I went out to have a look at it for a client. Like many foreclosures in the market right now, they seem to get more traffic than regular listings - even if they absolutely lookk like a mess in the pictures online. This listing has no sign in the yard and was just put on the market today. By the time I arrived at it at about 1:00 in the afternoon, there was already a family at the property in the driveway scoping it out.
I picked this one to follow because it's a very established neighborhood, the home sits directly on the golf course and it has a pool so it's something of a unique property for a foreclosure and could potentially sell quickly. You can view the details of the listing here.
A Quick History of the House
This home was originally listed as a regualr resale and then withdrawn. At first, $565,000 and then reduced to $535,000 prior to being taken back by the bank. It's on the marekt right now for $415,900. I bring this up for a couple of reasons; one, in it's current state doing nothing more than cleaning it up, we know that it is not worth any more than $530,000 and second, to perhaps demonstrate a property that might have some instant equity for someone willing to take on this project.
Make no mistake, this home is a project, but, one that might be just right for someone with a bit of vision. Here are a couple of photos of the pool and the golf course lot: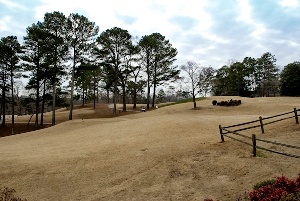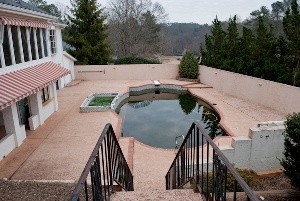 Sorry, I can't make grass green in the winter without photoshopping it :-) and I just can't bring myself to try to make that water blue. We'll just need to go out and see it if you want to get a more real picture than what you see here. What you have to work with on this property are really good bones, a floorplan that seems to continue to become more and more popular - a brick ranch with a finished basement, rear entry garage and golf course lot in the very popular Brookfield Country Club neighborhood. Typical for homes in Brookfield, all of the rooms including bedrooms are large - as are the closets. Actually, this is quite a large house and in the center of the home is a set of permanent attic stairs if your a real enthusiast and wish to go up because you need more space. You won't see this much house at this price when you get closer in to Sandy Springs or Dunwoody and especially the Intown Atlanta neighborhoods.
But, This House Needs Some Work
And that's why it's priced where it is and that's also one of the reasons I am following this foreclosure. I think this is going to be an exceptional house for someone who can see a finished product. For starters, it needs carpet, paint and some immediate modifications to a few walls here and there and of course the pool will likely need something of an overhaul, but, it is quite private. I didn't do anything close to a full inspection, but, I saw a few addtional items that needed some work like the master bathroom, which was quite interesting in that it really had his and her bathrooms instead of just his and her closets. One side had a shower while the other full bathroom had the large whirlpool tub. It also looks like another $10,000 of miscellaneous repairs and updates would need to be done right off the bat and that $10,000 could go really fast if you weren't careful (that $10,000 does not include the kitchen and some other things I would consider doing). Speaking of the kitchen, that is where it could get steep, but, it just might be worth the money to do it right for both resale and comfort of living reasons.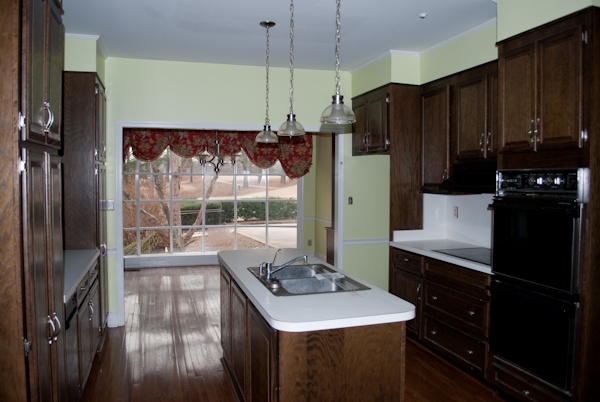 I don't know if anything works in the kitchen, but, this is the area that dates the house. If you're familiar with the floorplans in homes like these, you'll know exactly what I'm talking about. The far end of the kitchen above is a very bright breakfast room with a superb view out to the golf course. Looking out the window in this photo, the pool would be to your left and down. The kitchen is dated. Nothing in here screams "look at me. I'm new and beautiful", but, it is functional. To me, removing the left wall as you look at the photo would open the huge family room up to the kitchen and almost instantly bring this floorplan into the 21st Century. I would consider this if I were buying it.
Call Me if This Looks Interesting to You
This is not my listing. It's listed with Prudential so I'm not trying to push my own listing, but, I do think this is an interesting house. I've run some comparables and done the first part of a market analysis to try and ascertain what I think it's worth, but, I'll hold off on telling you that until you call.