I think you will agree with me when I say:
Home prices, on their face, seem to be high for what you can get in some areas of town. Now it looks like the market may be on the verge of agreeing as well...
There was a lot of optimism going into 2016 for the real estate market to continue with higher prices and higher sales volume. Some of that optimism was due to it being an election year and they tend to be good years for real estate and also with the economy not hitting any speed bumps recently it shaped up to look like it was going to be a banner year.
Where are we now?
January of this year started off a little slower than in 2015 with 78 sales in Alpharetta compared to 84 in 2015 or a 7% decline. In 2015, the median price for a home in Alpharetta (the number where half the homes sold for more and half the homes sold for less) was $308,000. In 2016 the median price was $365,000, or, up 19.5%. The price increases fueled optimism. But February sales were also lower by 28% in 2016 than they were in 2015 and while two months don't quite make a trend, we in the industry started to take notice that demand was lower than expected. March sales were also down 17% year over year and then we started to see a trend. Three months in a row sales were down when compared to the same time period a year earlier. You can see by this chart that year to date in 2016 the sales volume lags behind 2015 for the most current statistics.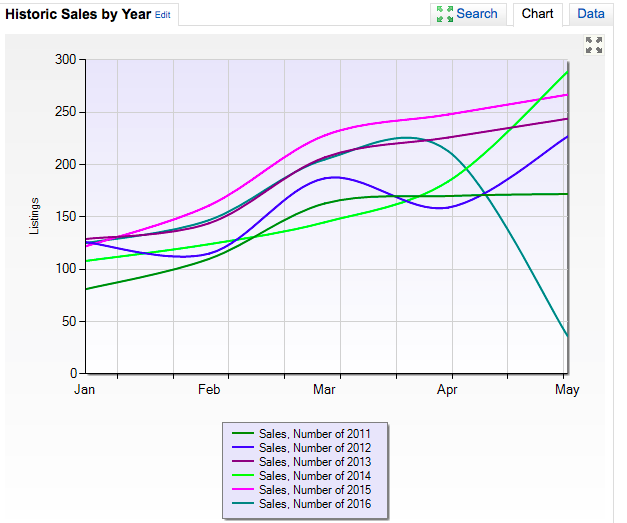 Alpharetta real estate sales tend to be more stable than some of the surrounding areas in Metro Atlanta because of the strong local economy, good schools, lower crime statistics and demographics so if we are seeing lower trends here, we would likely see them in other areas of Atlanta as well. But there is more going...