Alpharetta Market Update Spring 2016
Posted by Ryan Ward on Tuesday, May 17, 2016 at 11:21 AM
By Ryan Ward / May 17, 2016
2 Comments
I think you will agree with me when I say:
Home prices, on their face, seem to be high for what you can get in some areas of town. Now it looks like the market may be on the verge of agreeing as well...
There was a lot of optimism going into 2016 for the real estate market to continue with higher prices and higher sales volume. Some of that optimism was due to it being an election year and they tend to be good years for real estate and also with the economy not hitting any speed bumps recently it shaped up to look like it was going to be a banner year.
Where are we now?
January of this year started off a little slower than in 2015 with 78 sales in Alpharetta compared to 84 in 2015 or a 7% decline. In 2015, the median price for a home in Alpharetta (the number where half the homes sold for more and half the homes sold for less) was $308,000. In 2016 the median price was $365,000, or, up 19.5%. The price increases fueled optimism. But February sales were also lower by 28% in 2016 than they were in 2015 and while two months don't quite make a trend, we in the industry started to take notice that demand was lower than expected. March sales were also down 17% year over year and then we started to see a trend. Three months in a row sales were down when compared to the same time period a year earlier. You can see by this chart that year to date in 2016 the sales volume lags behind 2015 for the most current statistics.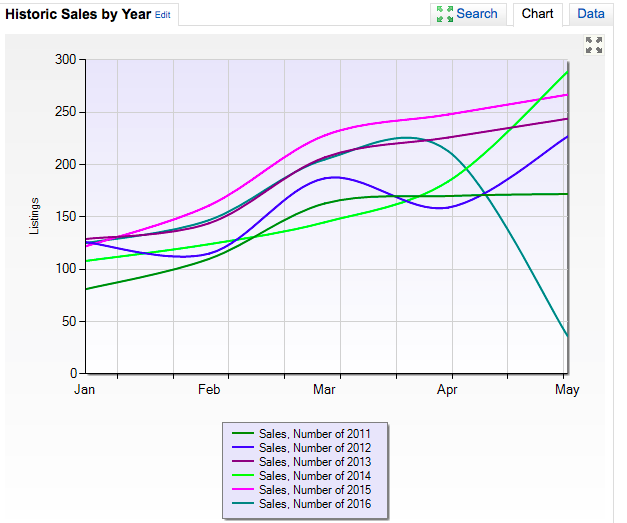 Alpharetta real estate sales tend to be more stable than some of the surrounding areas in Metro Atlanta because of the strong local economy, good schools, lower crime statistics and demographics so if we are seeing lower trends here, we would likely see them in other areas of Atlanta as well. But there is more going on here. While sales volume is down, we can see that prices have continued to rise by looking at the chart below.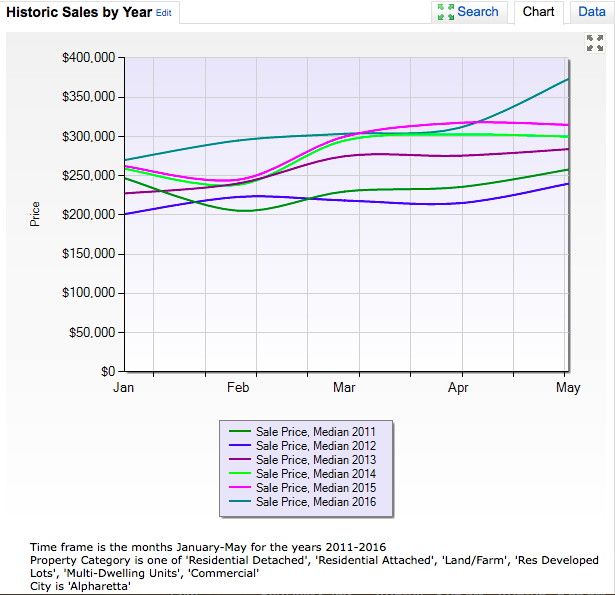 Something is going on...
So we see sales volume (demand) is down but prices are still going up. This is counterintuitive since we know that supply and demand are inextricably linked. Supply isn't high as you can see from the chart below so it's my opinion that something else is about to change.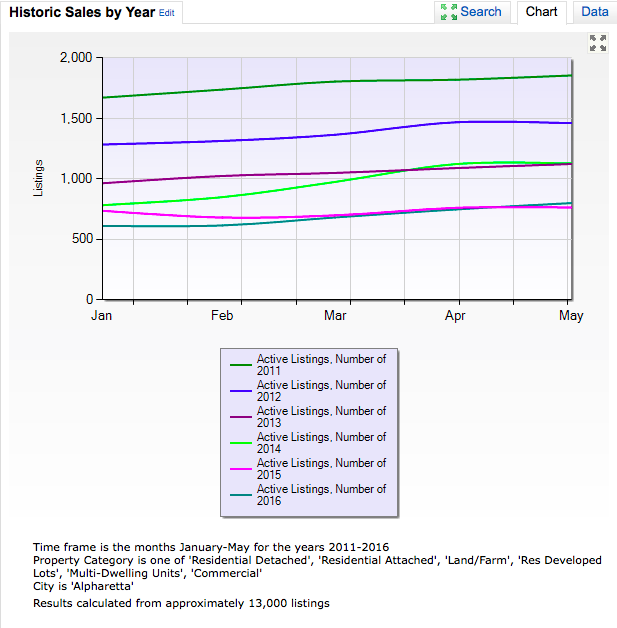 We know demand is down and supply is not up but prices have continued to rise thus far this year. Even with lower demand it seems that price may be a lagging behind as indicator of what is currently happening in the market since they are still rising. If the trend of lower demand continues, we are likely to see more supply remain on the market and more homes with reduced prices and listings that fail to sell. When that occurs, prices will likely begin to level off.
Another way to look at it...
Just taking the anecdotal approach to all of this, and talking to agents and buyers in the market, we seem to feel that it's difficult to find homes for buyers and buyers (at least the ones my team are working with) seem to have a hard time finding homes at prices they feel represent a good value. All in all there doesn't seem to be any reason for panic but maybe it's time for a slight correction in the area of price. More and more buyers looking at homes in the range of the median price in Alpharetta are having a hard time shelling out the money for homes at current prices. We hear more buyers saying they will wait. Prices seem too high for what they are seeing in the market.
No one can say for sure what the future holds but the statistics indicate a change is coming and that change may just be some price adjustments to the inventory of homes not only in Alpharetta but in the other major sub-markets of Atlanta.
Tell us what you think in the comments below!