Alpharetta Market Update - Things are Changing...
Posted by Ryan Ward on Friday, August 19, 2016 at 1:46 PM
By Ryan Ward / August 19, 2016
Comment
Summer is over and school has started and that means we run into the beginning of the fall cycle of slower home sales through November and the typical uptick in December before the slowest two months of January and February. Inventory is still very low and fully one third of all homes currently listed for sale are under contract but change is coming - it's just a matter of when we see a change and no longer if we see it.
Check out the infographic below for the big numbers: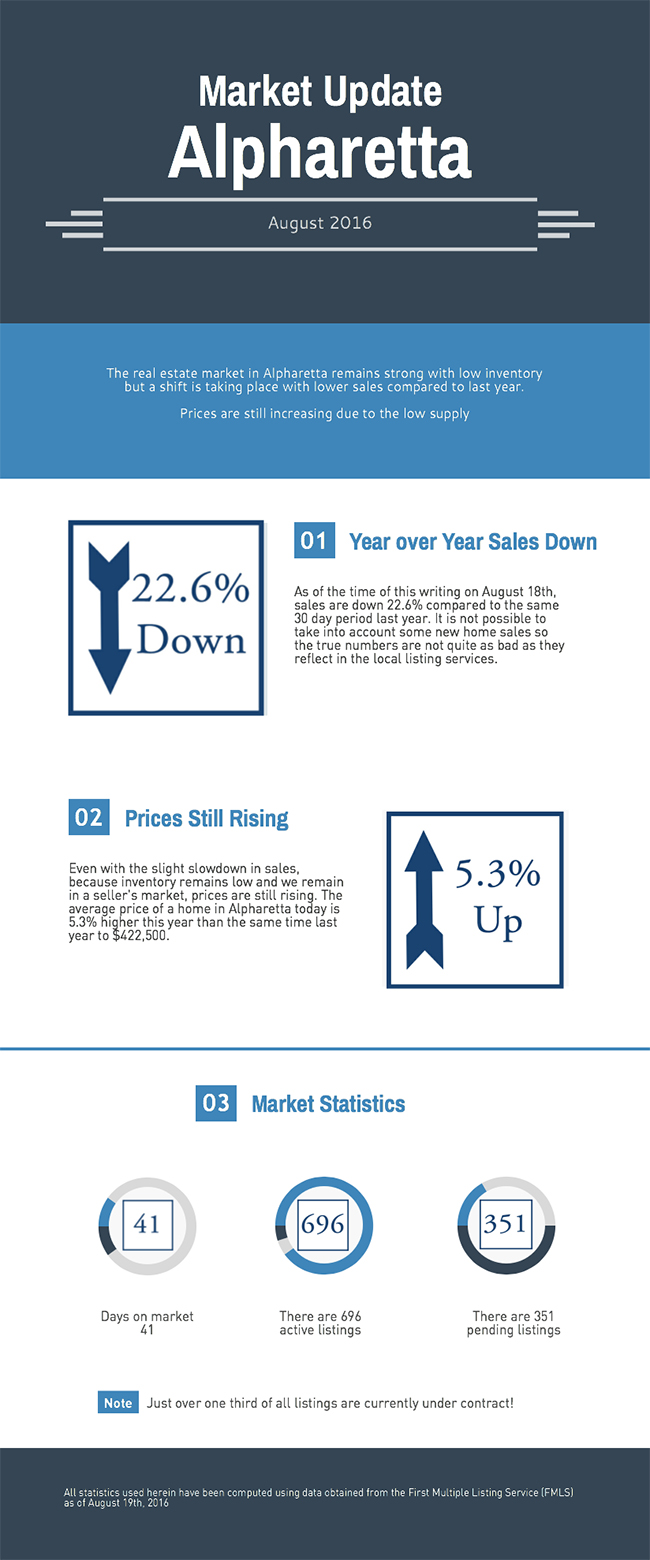 What Does This Mean?
I don't think I would read too much into the slower sales for a couple of reasons. First, most new home sales are not accounted for in any database so it's difficult to get a totally clean number. Second, even if we do see a little slowdown in the sales, there still isn't enough inventory to drag us into a buyers market. At least not yet. There are of grumblings from buyers about homes being priced too high in their opinions and as an agent, I would agree with certain homes but that's anecdotal and not marked by any substantial evidence. to the contrary, we still see very low days on market for homes that are updated well and priced accurately. There is no shortage of buyers just a shortage of good homes.
When the market does shift, I wouldn't expect any change until the fall of 2017 at the earliest in Alpharetta and when it does if there is a price correction it would be my best guess that we may see a small, 4%-5% downturn in prices that won't last long as long as nothing radically changes in the overall economy.
Questions or Comments?
As always, we welcome feedback as long as it's respectful. Leave a reply below!